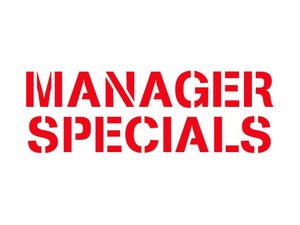 Manager's Specials
Our office manager finds all sorts of goods tucked away in our warehouse. From rare vintage limited editions to surplus stock, find them all here at special prices.
Please note that some items may not be in their original retail condition due to their age. These are mostly intended to be used as collector's items.
No returns and all sales for items listed in this category are final.
Availability
Premium Incense Sticks - Coffee - 100% in stock

Premium Incense Sticks - Blood Orange - 100% in stock

War Beard Gel - Equinox Blend - 0% in stock

Sold Out

Basic Hoodrats Fight Soap Bar - 0% in stock

Sold Out

Sinister Cedar Body Spray - 47% in stock